No 
Bending

,

Climbing

, or 

Straining

 your Hip & Back anymore!
EASILY PICK UP AND GRAB OBJECTS IN HARD TO REACH PLACES, PORTABLE GRABBER & REACHER TOOL IS THE PRODUCT FOR YOU.
OPEN THE TOOL AROUND THE OBJECT YOU WANT TO GRAB, SQUEEZE THE PORTABLE GRABBER & REACHER TOOL ERGONOMIC HANDLE AND IT WILL RATCHET CLOSED AROUND THE OBJECT.
THE PORTABLE GRABBER & REACHER TOOL SWIVELS 90 DEGREES ALLOWING YOU TO EASILY REACH FOR PRODUCTS THAT ARE IN TIGHT OR AWKWARD PLACES.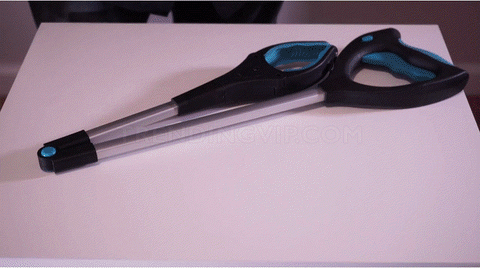 "Back pain is youth leaving the body &  Whenever you get a sharp pain, you need to back it off."
FEATURES:

GRAB IT – THE INGENIOUS NEW TOOL THAT GRABS WHERE YOU CAN'T REACH. PERFECT FOR ITEMS IN HIGH PLACES, BEHIND OR THE COUCH OR IN SMALL TIGHT SPACES

ERGONOMIC DESIGN – LIGHTWEIGHT, PORTABLE AND COMFORTABLE GRIP. HEAD SWIVELS 90 DEGREES TO REACH THINGS IN THE TIGHTEST AREA AND SOFT RUBBER TIPS HOLDS AND GRIPS
LOCKING RATCHET ACTION – HOLDS ON EVEN IF YOU LET GO AND CONTINUOUS SQUEEZING. PICK UP AND HOLD ITEMS UP TO 5 LBS

MULTI-PURPOSE – PERFECT FOR A WIDE RANGE OF APPLICATIONS. WHETHER YOU NEED TO CHANGE A LIGHT BULB, PICK UP TRASH OR GRAB SOMETHING OUT OF YOUR REACH

FEATURES – FOLDABLE FOR EASY STORAGE, BUILT IN LED LIGHT, JEWELRY HOOK, AND MAGNET HELP GRAB EVEN THE SMALLEST HARD TO GET ITEMS.

SPECIFICATIONS:
MATERIAL: ALUMINUM ALLOY + HIGH STRENGTH ABS & TPR.
COLOR: AS SHOWN IN THE PICTURES
FOLDED SIZE: FOLDING ABOUT 42CM/16.5 INCH; EXPANSION 81CM/32 INCH.
PORTABLE GRABBER & REACHER TOOL, PICK-UP AND CLEAN-UP TOOL IS GREAT FOR USE IN THE HOME AND AROUND THE YARD.
What People say about us!
"Excellent goods quality Aluminum Oval pipe is light and durable Inside steel wire rope in plastic Effective length about 77 cm Folded about 40 cm Rubberized rivets size under standard PET bottle The glue is made of better quality plastic than the handle. On the handle is a rubber insert, the trigger is convenient, it is pressed easily The grip is good, convenient Tool easy Osnost observed"   ⍟⍟⍟⍟⍟

THIS PRODUCT'S QUALITY WON'T LET YOU DOWN!
GRAB IT NOW BEFORE BEING SOLD OUT!